It's time to man up. If the Cowboys are tired of all the jokes. Tired of all the laughter. Tired of coming up short. Then it's about time they do something about it. Frankly, they have been one of the laughingstocks of the league for a decade and a half now. It's time to put up or shut up. It's time to stop making excuses for Romo. It's time for Jerry to stop over hyping a team that has done nothing but come up short. It's time for
Jerry to shut up
, period. It's time for Romo to stop talking about leadership and actually be a leader. There is a lot of talking coming out of Valley Ranch, but not enough doing. That's getting old. Time to come up with some new material. And you also don't realize how tired I am of hearing about the 90s Cowboys. Everyone wants to get nostalgic about the 90s Cowboys. They want to say what this current Cowboy team needs to do to get on that level. They want to say Murray could be the next Emmitt. Seemingly everyone wants to find some kind of correlation with this team to the 90s Cowboys. We get it. Those teams dominated. But this is not the 90s. There's actually a salary cap now, and more rules to abide by. This team sure as heck isn't the 90s Cowboys. Not anywhere near it. So, I would like it if I didn't hear anymore about the 90s Cowboys. Let's talk about the recent Cowboy teams. The teams that have done nothing but come up short. The teams who rarely win big games late in the season. The teams who find a way to lose games in such laughable fashion that you can't help but associate "choke" with the Dallas Cowboys. Yes, the media blows out of proportion Romo's December record, but the Cowboys don't ever do anything to shut the critics up. How do they expect the criticism to stop if they keep on proving the naysayers right? If the Cowboys want to shut up the critics, make the playoffs, and advance further than just the Division Round some time again in our lifetime, then these things must happen.
Tony Romo Must Improve
Enough with the excuses.
Cowboy fans always want to compare Romo to Eli. Yes, Eli has been more lucky than Romo. That goes without saying, but Eli makes the big time throws under pressure. Romo doesn't. All Eli has is two rings. All Romo has is excuses. Plain and simple. He has to improve. Enough about how he needs a top defense, a better offensive line, and a better running game. Romo himself needs to get better as well. Don't let the stats fool you. Romo was not as good as his QB rating suggested last season. His QB rating suggested that he was an elite QB last season, and that just doesn't fly with me. Elite QBs make their offensive line better. Elite QBs don't make the type of bone-headed mistakes that cost the Cowboys in a couple of games last season. Elite QBs don't throw the ball five yards past the line of scrimmage in the biggest game of the season. Elite QBs don't panic and take unnecessary sacks. Romo's stats looked great, but there is room for more improvement. Supporters want to say Romo's offensive line was bad. He had virtually no running game. Yada yada. Some of those things are true, but Romo could have simply done more. There were plays he missed on such as missing an open Dez Bryant at the beginning of the game in the season finale for rights to the NFC East crown. He hits that, that's possibly a 7-0 lead right there, and nothing is more important than jumping out to an early lead on the road, in a hostile environment.
I know, Romo does need more help. Playing for arguably the most annoying owner in sports is not an easy thing to do. Especially considering this owner does not stop running his mouth to the media. But he has to overcome it. Eli overcomes playing in a huge market. Romo has to do the same. The elite QBs overcome. The elite QBs make their receivers look better. The elite QBs make their offensive line look better. The elite QBs are true leaders. If the Cowboys want to win a SB, Romo must become an elite QB.
Secondary Must Improve Dramatically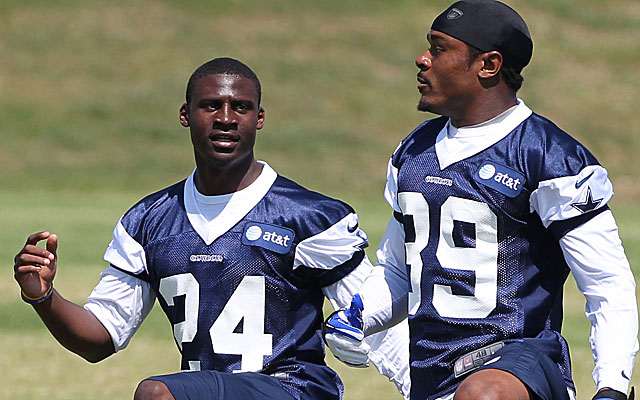 Carr and Claiborne look to improve an atrocious secondary
Considering the Cowboys had the worst defense in Cowboy history just two seasons ago, last year would seem like a substantial improvement. But it wasn't. Not nearly close. You could make the case that it was just as bad as it was two years ago in the grand scheme of things, given the secondary cost them multiple games in the 4th quarter. Yes, Romo must improve, but he does need some type of help. If you can't hold a 12-point lead with five minutes to go, that is on the secondary, not Romo. The acquisitions of Brandon Carr and Mo Claiborne seems like the Cowboys went about it the right way to improve their defense this offseason. Not only that, dropping Bradie James and Keith Brooking like a bad habit should improve their pass coverage as well. But hey, it only took five years though. Did it seriously take Jerry "Mr. Football" Jones this long to realize that an upgrade at secondary was needed? I think we've seen enough of Mike "Too Scared To Tackle" Jenkins and Orlando Scandrick, who gets repeatedly gets burnt like he stayed outside in the sun too long in the slot. Newman and Brooking's release came two years too late. Bradie James' release came about four years too late. Seriously, how was this guy ever a starter in the National Football League? He may have averaged over 100 tackles a season, but how many of those weren't after the ball carrier got five yards down the field? How this guy was ever a defensive captain, let alone an NFL starter is a mystery to me. But better late than never though, right Jerry?
If you want to stop the Eagles, the Giants, and maybe even the Redskins, you better be sure you have some corners that can cover. I think after two games of Eli last year, the Cowboys had enough of it. But I guess the other times that Eli lit up their secondary apparently wasn't enough to convince Mr. Football that an upgrade at secondary was needed. Yawn... Covering the other team's WRs is something the Cowboys have to get better at if they want to make any noise in the NFC East and shut up critics. And I'm not just talking about stopping teams on 3rd down either. I'm talking about forcing turnovers. I'm talking about game-changing defensive plays. More returns for TDs. And it needs to be someone other than Sean Lee. Safety is still a concern because Gerald Sensabaugh is just not a good football player and I don't understand why he got such a ridiculous contract extension. Mr. Football loves to hold on to players much longer than they should be held on to. Only you-know-who knows who will start opposite of Sensabaugh. Whoever it is, hopefully he is a much better player than Sensabaugh. Despite the limitations at safety, the secondary should still be much improved with Carr and Claiborne. After surrendering so many leads in the 4th quarter last year in large part because of the secondary, improving this aspect of the team dramatically could have a gargantuan impact on this team's success.
Anthony Spencer Must Become a Great Player
I'm gonna let you guys in on a little secret. You know that guy, Anthony Spencer? The guy who was taken #26 overall by the Dallas Cowboys five years ago in the draft? The guy who plays opposite to arguably the best pass rusher in football who routinely gets double-teamed and sometimes triple-teamed? These are things you already knew, right? So why is this dude so awful? Okay, maybe awful was going too far, but he's come up short on some lofty expectations. Excuses are made for him constantly. Even heading into this season, many are expecting him to have a big season because of a supposedly upgraded secondary on paper. So, poor secondary play was his excuse for not generating more sacks or pressure? Why didn't it stop Ware? Oh that's right, because he's just flat out good. But Spencer plays opposite to him and rarely sees double teams. Playing opposite to Ware should afford you all the opportunity you need to accumulate a good amount of sacks or at least have some type of impact on the game. Spencer just doesn't make enough plays despite being given every opportunity to do so. So why is an upgraded secondary supposedly gonna make him so much better? I don't expect it to happen, but it has to happen, period. He must become great. If you want to beat the Packers, the Saints, the Giants, and even the Pats, you need not just one dominant pass rusher, you need two, and maybe even three like the Giants. Spencer has to flat out become great. But don't expect it to happen though. He has never shown me anything but the ability to be mediocre-to-average, and you have to wonder why the Cowboys didn't just let him go altogether this past offseason instead of tagging him.
Jason Garrett Must Improve In-game Management
Jason Garrett is more than likely the smartest person at Valley Ranch. That includes coaches, players, front office, beat writers, janitors, stadium maintenance, whatever. Yet in a few games last year, you could argue that Jason Garrett transformed into the NFL head coaching version of Javale Mcgee. Icing your own kicker? Suffice it to say, that was an incredibly laughable week in the media after that blunder. In-game management must improve and to be honest, I'm confident that he can improve. Hiring Bill Callahan was a good thing, and Jason Garrett is just a smart guy. He's still learning how to coach, and I'm willing to give him a free pass for his blunder. However, I won't give him a free pass for cutting Gurode unannounced when this team desperately needed a rock at center. I understand him wanting to bring accountability and a no-nonsense attitude to this team, but that was a move that shouldn't have been made. And they are still paying for it today. A makeshift offensive line is just not gonna cut it in the NFC East and he had better hope that hiring Bill Callahan saves his butt.
Find a Punter
Might not seem like much, but it's pretty darn important if you ask me. They might have made a huge mistake in letting Mat McBriar go to the Eagles. They better make up for it by finding a legitimate punter. They better hope Chris Jones becomes pretty good. NFC East games usually come down to field position and turnovers. You might want to give yourself a chance to win the field position battle by having a great punter. The punter might be the most overlooked position in the game to the average fan. Trust me, players know the value of a great punter. Just
ask Peyton Manning
. If a punter is good enough, and if your defense is good enough, it can make all the difference in the world. If you want to beat the best QBs in the league, sometimes that average-sized guy, that's usually kicking footballs standing 10-15 yards behind the line of scrimmage, is the guy that can help you get it done.
Overlook and Overcome All That is Jerry Jones
Easier said than done. It's hard just ignoring the average owner in the NFL. Let alone an owner who is as annoying, as ostentatious, and as brash as Jerry Jones. The moment Jerry says anything in the media, not a single Cowboy player or coach should address it when asked. Ignore it, focus 100% on football, and move on. Bill Parcells knew all too well what Jerry was about. Which is why Bill Parcells wouldn't even allow him near the team that often. And probably the biggest reason why he retired. From the headache of dealing with Terrell Owens and Jerry Jones, it's a surprise Bill Parcells didn't have a nervous breakdown. To avoid the headache, Jason Garrett must continue to make his little quips to the media and not really address Jerry's comments. I absolutely love the way Jason Garrett handles any questions from the media involving Jerry. Hopefully he has his team doing the same thing. Focusing 100% on football and away from distractions. This team definitely has to focus. If the Cowboys are gonna win anything any time soon, it will be in spite of Jerry, not because of him.