Only eight teams in NBA history have come from behind 3-1 to win the series. Memphis is facing some long odds here. I'm going to divulge on why this series has gone wrong for the Grizzlies. Top to bottom, the Grizzlies have no business losing this series. By all accounts, the series should be tied 2-2. Yet, it's 3-1, and the Grizzlies are in serious danger of losing a series they should have won in 5 games. That has largely happened due to timely shots by the Clippers, an ailing Zach Randolph, and the Rudy Gay factor. You can't take anything away from the Clippers, but you just have to wonder how this series goes if they didn't make so many timely key shots. They've won all three games by a combined six points. I think the Clippers have been more lucky than good, and if you are a Spurs' fan, you have to be happy with the outlook of this series so far. Not that Memphis could repeat what they did to the Spurs last year, but they could provide many more mismatch problems than the Clippers could.
Zach Randolph is obviously not fully healthy. Z-Bo's numbers in the playoffs this year are a far cry from his numbers from a year ago in the playoffs. It also might not be entirely his fault. Besides Conley and Gay, no Grizzly is getting theirs, and that's largely because of Rudy Gay. I've always been one of Rudy's biggest critics. There is nothing whatsoever about his game that I love. Nothing. I've always thought of him as an underachieving, selfish basketball player with unreal athleticism. He's also severely overpaid. He hasn't done anything in this series to dispel that notion. The Grizzlies would have been better off letting him walk. The transformation of the Grizzlies since the Pau trade has been largely because of Marc Gasol, Z-Bo, Allen, and the emergence of Conley. Rudy Gay has had little to do with it. There is a reason why this team was able to take down the #1 seeded, San Antonio Spurs, a year ago. At the time, I felt like the Grizz played so well because they didn't have Rudy Gay. Many thought that it was admirable what the Grizz did, and many were like, "and this was without Rudy Gay." Well, they were more stingy defensively and strategically balanced offensively without Rudy Gay last season. An offense that's built around Z-Bo coupled with unselfish players such as Gasol and Conley works. A defense anchored by Gasol with other worldly perimeter defenders in Tony Allen and Shane Battier works. You have a guy like Mayo who can come off the bench and give you instant offense. That's a recipe for success. When you lose Shane Battier and reinsert Rudy Gay, things become a lot more complicated. It's not as if Shane Battier is the type of player Rudy Gay is. Rudy Gay is obviously better at this point, but the Grizz simply needed a glue player like Shane who would get dirty defensively, and not take shots away from Z-Bo, Conley, Mayo, and Gasol. Shane Battier is a guy who does all the little things on both ends of the court, always makes the extra pass when needed, spaces the floor, and just in general, doesn't ruin the flow of the offense. There was more ball movement, more cutting, less standing around and watching by the Grizzlies last year in the playoffs.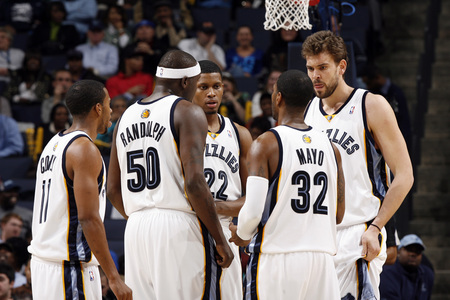 Memphis has had trouble getting everybody their shots this postseason.
Ruining the flow of the offense explains Rudy Gay to a tee. He's a terrible play-maker and he takes terrible shots. He ruins the flow. You don't need a boxscore to tell you just how much Rudy Gay is ruining this offense. Marc Gasol has been basically a ghost. It is inexcusable that he has taken a paltry seven shots a game in this series. Gasol's numbers so far in the playoffs are a dramatic decline from his season numbers and from his playoff numbers a year ago. It's not like he's shooting a terrible percentage either. He's simply not getting many shots. These stats baffle me. Rudy Gay has six assists to 13 turnovers. Marc Gasol has 13 assists to six turnovers. It makes you wonder why Hollins is allowing this offense to run through Gay instead of Gasol. It's obvious that Z-Bo is not healthy, so this offense should be ran more through Gasol. Rudy Gay is jacking up shot after shot, turning the ball over more than assisting, and his defense hasn't been anything to write home about. What makes Gay's series even more perplexing is that he has a huge advantage against an undersized Clipper team at the 3. Butler is not healthy, and they've put Foye on him for the bulk of the series, and he's not taking advantage of his mismatches at all. Rudy Gay has been exposed in this series tenfold, and you have to think the management in Memphis are second guessing that contract they gave him. This roster clearly doesn't need him. Too often have I seen this offense in this series just stand around and watch Rudy for possessions. It's one thing when you are standing around and watching a Kobe Bryant or a LeBron James, but when you are standing around watching Rudy Gay, there lies a huge problem. Rudy Gay has all the athleticism in the world, but he's limited offensively. His assist:turnover ratio says all. This guy does not deserve to have the ball in his hands for full possessions. You have to admire what Conley has done in this series. He's been absolutely phenomenal despite Gay's presence, but that has more to do with him being a PG. As a PG, he's gonna have the ball a lot anyway. At times in games, I've seen Conley take the ball down the court, and not pass it to anybody just so he could get his own shot. That's what the presence of Rudy Gay has done. You have guys like Conley feeling like they have to get up shots just to get up shots because the ball sticks with Rudy Gay so much. It's more often than not, not coming back to you after Rudy Gay gets it. It's fine when Z-Bo does it, and there's no Rudy Gay in sight, but when you have other players on the team who need shots, Gay's presence hurts the team a lot. Rudy Gay has taken by far the most shots on his team in this series. He's taken 43 more shots than Gasol. 23 more shots than Z-Bo. 27 more shots than Conley. 29 more than Mayo. It's one thing if Gay is shooting over 50%, but he's shooting an abysmal 42%.
If you want to know why the Grizz are losing so many close games, and going on spurts offensively where they can get absolutely nothing, look no further than the Rudy Gay factor. I'm not the type who gives 100% of the blame to one player for a team's failure. That's just not fair and not fair to Rudy. Rudy has made a few big shots this series to keep them close in games. So he deserves some type of credit. I've had more of a problem with what he's done for the entire game, and not the last few minutes of it. He's failed to get his teammates involved, and has taken way too many shots. With that said, somebody else needs to step up besides Conley. Gasol needs to be more assertive. Z-Bo needs to play a lot better and be the banger that he is despite the fact that he's injured. I know Z-Bo can play better than this. Mayo needs to knock down some shots. He's been pretty off this series. Management is at fault for not recognizing the type of player Gay is and the fact that he doesn't fit with this roster as it's constructed. He's ALWAYS been this way. Assuming the Grizz go on to lose this series, they need to think long and hard about what to do with Rudy Gay. He is not a good fit for this team. He has to be dealt. You just can't lose to a team like the Clippers, who is really limited outside of CP3. On the other hand, you have to give CP3 his props. He's been a phenomenal leader, and showing why he's a top 5 player in the game, but the Clippers have no business winning this series. They are winning it because of his play, timely shots, Z-Bo not being himself, and mostly because of the Rudy Gay factor.