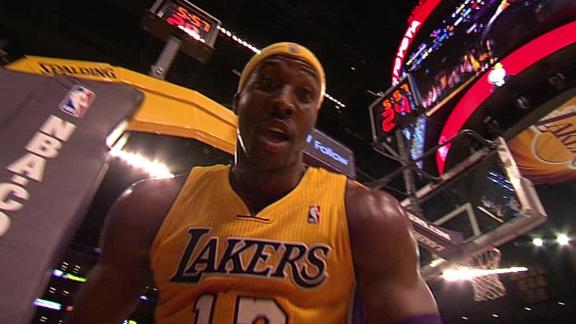 Dwight finished with a 28-20 line against the Nuggets Friday.
Amid the Lakers shooting clinic against the Nuggets in
Friday's night's late game
, I noticed something: Pau Gasol put up another yawn-worthy line and Kobe Bryant was almost a non-factor aside from passing. A brilliant shooting performance from beyond the arc assuaged real problems that the Lakers have. Pau Gasol's lack of production is a combination of aging and not fitting well in D'Antoni's offense, and Kobe won't be able to carry them night in and night out. You could see Kobe was playing with dead legs despite the fact that he had multiple days off to shake the flu and get ready. Granted, Kobe will try his best to carry them when they need him to and if he has the energy to do so, but I don't believe he will be able to when they need it most. That was evident in the loss against the Indiana Pacers at home when he scored 40 points w/ 10 turnovers in a losing effort. With all due respect, if Kobe is scoring 40 points, the Lakers have no business losing. Not when you have Pau Gasol and Dwight Howard on the same squad. So, they lost to a Granger-less Pacers squad with Kobe, Pau, and Dwight? That is unacceptable.
Tonight's hot shooting performance will certainly calm down some antsy Laker fans and it gave a glimpse as to what this offense has the potential to be under D'Antoni but make no mistake about it, this is not a championship caliber team. When you bring in Steve Nash and Dwight Howard to go with Kobe Bryant and Pau Gasol, you are supposed to be poised for a title run. The Lakers clearly aren't ready for a title run. Hell, they aren't ready to make it past the 2nd round.
Certainly, the jury is still out on what this team could do because Steve Nash has yet to lace em up since D'Antoni took over, but you can clearly see the flaws they have. Tonight was a lot of theatricality and deception, masking the deficiencies that this team has. Deficiencies that were exposed in the aforementioned battle against the Indiana Pacers. The lights-out shooting with an abundance of three-point attempts are something we have all grown accustomed to with a D'Antoni offense, but what has his scheme ever led to in the grand scheme of things?
They can't guard the paint even with a dominant defensive presence like Dwight. Point guards are breaking down their defense way too easily, Kobe is not the defensive player he once was, Metta World Peace is gambling for steals too much, and Pau Gasol almost looks as if he's playing goalie defense waiting for the ball to come to him instead of going to it and contesting the shot. So when you bring back Nash, who can't guard a door, things could get much worse. No-defense basketball doesn't win in the playoffs and D'Antoni has proven that and with Nash leading the way. I don't care if Nash comes back and averages 10 assists a game, Kobe scores his 27 a game, Dwight gets his 20 and 10, Pau gets his 15 and 10, Peace gets his 12-15 points, Jamison gets his 12-15 points, and they average over 120 points a game, it still won't translate in the playoffs.
And just in case you didn't notice, the players I just named off excluding Dwight are only 38, 34, 32, 33, and 36 years-old. (No kidding). You think those guys can run at this pace for a full season and still have enough gas in the tank for the playoffs? This must be some kind of sick joke, right? Absolutely not. Anyone with an IQ above room temperature can see this Laker team is not going far in the playoffs with the way this roster is assembled. They can compete in the West and with luck could win the West, but they are not beating the Miami Heat in the NBA Finals. No way no how unless something drastically happens.
The drastic I'm talking about is Dwight Howard maturing. Not only physically, but mentally. If you watched tonight's game, you know exactly what I'm talking about. He looked as if he was having a little too much fun out there. Acting like a goofball, shooting a 3 at the end of the game, and generally just behaving like a little kid on the court. That's Dwight for you. Yes, he had an outstanding game, but Dwight always has those big games. This is nothing new. Those games are nice, but we saw from tonight is not what the Lakers need.
The Lakers need Dwight to be a bully. They need him to be mean. To play with some seriousness. To play with a chip on his shoulder. To play like someone who just hates the world. To play like he hates everybody. To play like he thinks everybody is after him and trying to impede him from getting where he wants to go. That's what the Lakers need from him. Being nice is cute, but that doesn't win championships. You are in LaLa land now big guy. The time for playing is over. They expect championships down there. You are a long way from Orlando. If he thought the media storm in Orlando was something, he hasn't seen anything yet. It wouldn't hurt if he would make some free throws either. The guy has been flat out atrocious from the line this season. If your free throw percentage is lower than your field goal percentage, it's time to have a Come-To-Jesus-Meeting. Also, he needs to eliminate the careless turnovers, and they need him to become a consistent passer out of the post instead of a blackhole.
These same things have been said about Dwight for years so unfortunately for the Lakers, this probably will never be who Dwight is. Dwight just wants everybody to love him. He's a fun-loving guy who's a big kid at heart. Nothing is wrong with that, but he needs killer instinct if he wants to win a title with this team. Think back to Shaq's early days. He was the same way. Having too much fun, being immature, tearing down basketball goals during games and just trying to dunk over everybody. When Shaq started winning championships, he mostly cut out the immaturity. Yes, he would still play and joke around off the court, but on the court, he became a bully. He would foul people hard intentionally, and he would use his big frame to get away with fouls that no player should get away with. He would even take shots at teams like the Sacramento Kings by coining the "Queens" phrase. Shaq became a mean player, an adept passer, and most importantly, he knocked down his free throws when he needed to.
That's what the Lakers need from Dwight, because Kobe at the age of 34 on bad knees with a boatload of playoff games on his legs isn't carrying this team to a title. Pau is declining and the offense doesn't even suit him to begin with. Jamison doesn't know what it takes to win considering he's always been on losing teams. Metta World Peace is a walking ticking time bomb. Jodie Meeks and Steve Blake will only give them so much. Nash plays no defense whatsoever and he's already experiencing injuries since leaving the Suns, who famously have one of the best medical staffs in the league. He has missed 14 games for the Lakers. That's noteworthy considering he missed only 37 games from the time he joined the Phoenix Suns in 2004 and left last season. By the time Nash comes back, he will have missed nearly 20 games. Which means he would have already missed nearly half the amount of games for the Lakers than he did his entire time as a Phoenix Sun. Certainly, age is a contributing factor, but also not having that outstanding medical staff is making a difference as well.
The Lakers have a lot of things going against them: Age, chemistry, maturity, and a coach with no emphasis on defense whatsoever. It's hard to see this Laker team making it past the second round. Wouldn't be at all shocked if they were a first round exit. The only way the Lakers can go far is if Dwight matures and becomes a meaner and smarter basketball player. There is nothing wrong with everybody hating you. That is something Dwight needs to understand. If nobody is hating you, then you aren't doing something right. Make them hate you to the point where they have no choice but to love you. That's what Michael Jordan did. That's what Magic and Bird did. That's especially what Bill Russell did at a time where civil rights was in question. Russell made the city of Boston love him despite his skin color, and he did it by winning. If he can do it during a time like that, then why can't Dwight do it now? Just win, Dwight, just win and they'll love you forever. No matter what it takes.